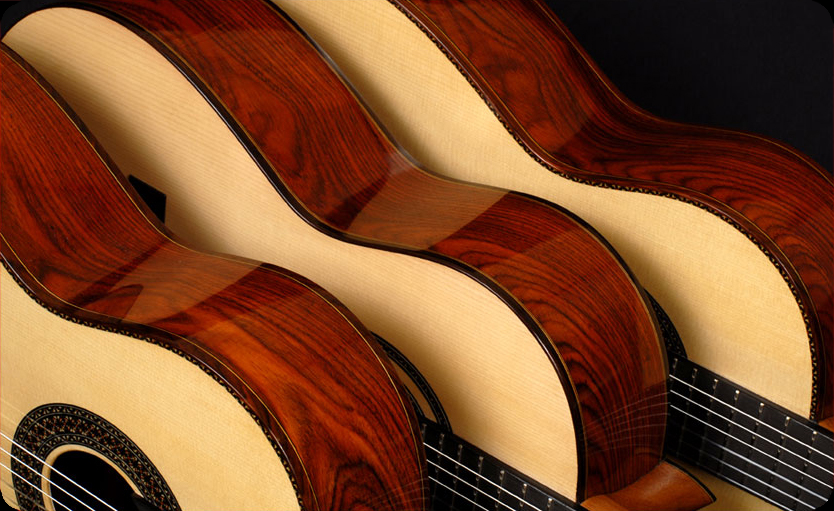 From the summer of 2009, the Cocobolo Classic became one of the standard guitar models offered by luthier, Daniel Turner. This high-end, concert-quality instrument has been specifically designed for professional jazz musicians and "nuevo flamenco" guitarists.

It has a slightly-shallower body (than a standard classical) with a custom cutaway, highly-figured Cocobolo rosewood back and sides, a master-grade spruce or dark chocolate cedar soundboard, and an optional under-the-saddle pickup connected to an inside-the-body wireless system. Special attention has been focused on perfecting the instrument's intonation and on creating a custom-designed setup that maximizes its dynamic range ... making it an especially effective instrument for playing across various musical forms, including Classical, Latin jazz, and Flamenco.

Since each Cocobolo Classic is individually custom-made there are a range of options that may be selected (see below) and the instrument's exact scale length and neck shape/dimensions may be specified by the player. The luthier will create no more than three of these instruments each year.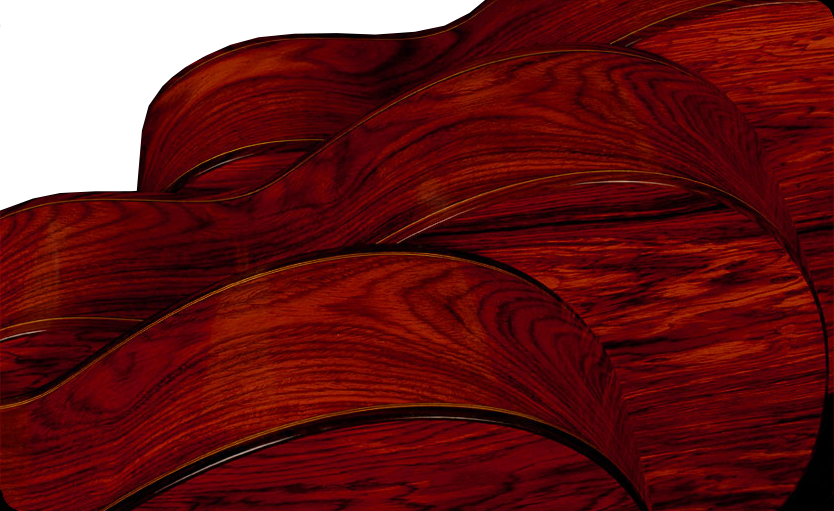 Standard Features
Master-grade spruce or cedar soundboard
Fingerboard with African ebony binding
Graphite-reinforced neck
Hand-made "signature" rosette
Custom cutaway
Alessi tuning machines with snakewood buttons
French polishing (complete instrument)
Cedar Creek AT Custom Classical case


Available Upgrades
Rodgers tuning machines (Hauser style)
Calton custom-made deluxe case
Cedar Creek custom-made fine leather case
Optional Extras
Rosette-matched bindings
Fishman "under-the-saddle" pickup
Internal AKG wireless transmitter + receiver
Transparent upper and lower tap-plate
Traditional instrument-matched capo (cejilla)
Fingerboard or head inlay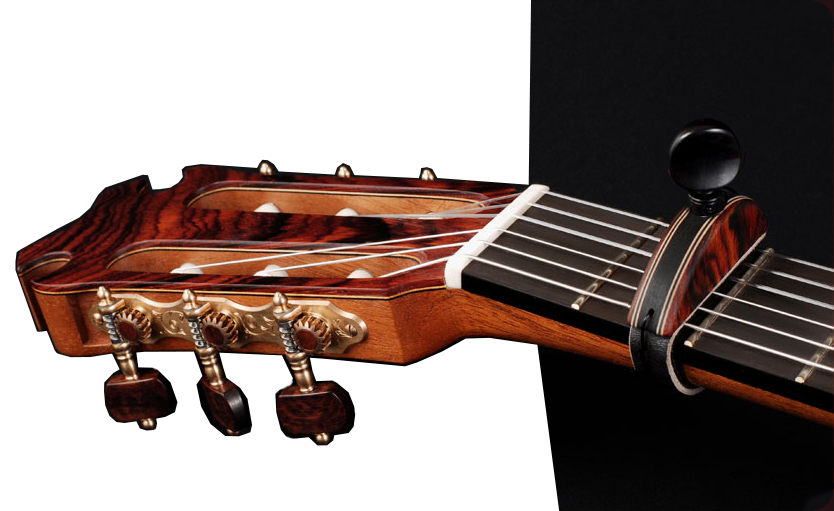 Woods
Soundboard
European Alpine Spruce
Engelmann Spruce
Blonde Western Red Cedar
Chocolate Western Red Cedar

Back and Sides
Highly-Figured Cocobolo

Neck
Spanish Cedar
Honduran Mahogany

Fingerboard
African Ebony
Cocobolo with Ebony Bindings
Snakewood with Ebony Bindings

Bridge
Cocobolo or Brazilian Rosewood
Snakewood

Head Veneer
Cocobolo or Brazilian Rosewood
Snakewood

Bindings
African Ebony
Cocobolo or Brazilian Rosewood
Snakewood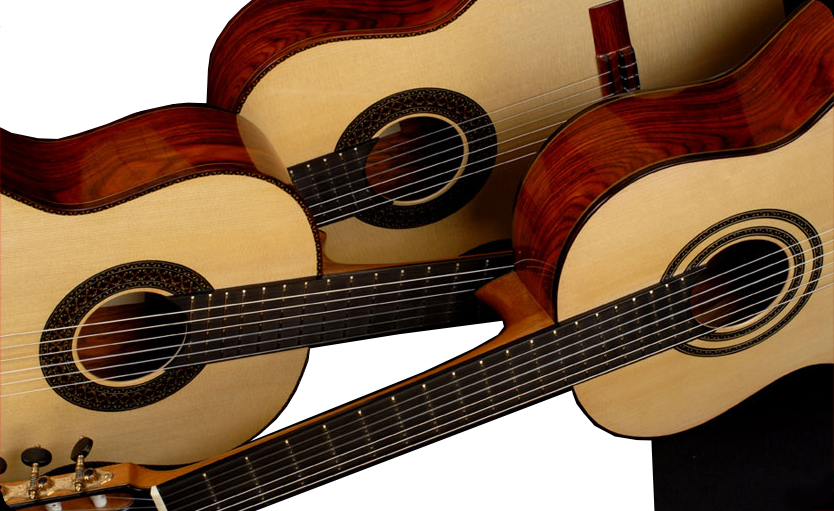 Take the percussive nature, dynamic range and power of a fine "negra" flamenco guitar ... add an advanced on-board sound-capture system, premium nylon strings, a cutaway that extends its playability, and a custom-designed setup that maximizes its acoustic range, and you may arguably have one of the best six-stringed instruments for creating, improvising, and interpreting jazz.

The Spanish-style guitar was the instrument of choice for jazz great, Charlie Bryd, a guitarist of extraordinary range and versatility who firmly established it as an instrument well-suited for the fusion of jazz, classical and Latin styles.

Today, the boundaries of jazz are being expanded by internationally-acclaimed guitarists like Paco de Lucia, Earl Klugh, Badi Assad, Gerardo Nuñez, Romero Lubambo, and Tomatito ... artists who use their inspiring mastery of the "nylon-stringed" guitar and unique artistic perspectives to create innovative directions in modern jazz — and beyond. The online collection of 16 photographs (see slide show above) features a few of the best custom-made Spanish-style guitars created by international-known guitarmaker, Daniel Turner.




If you have any comments or questions about these uniquely handcrafted, custom-made guitars, please use the following e-Mail address.

daniel@guitarmaker.art



(also available on request)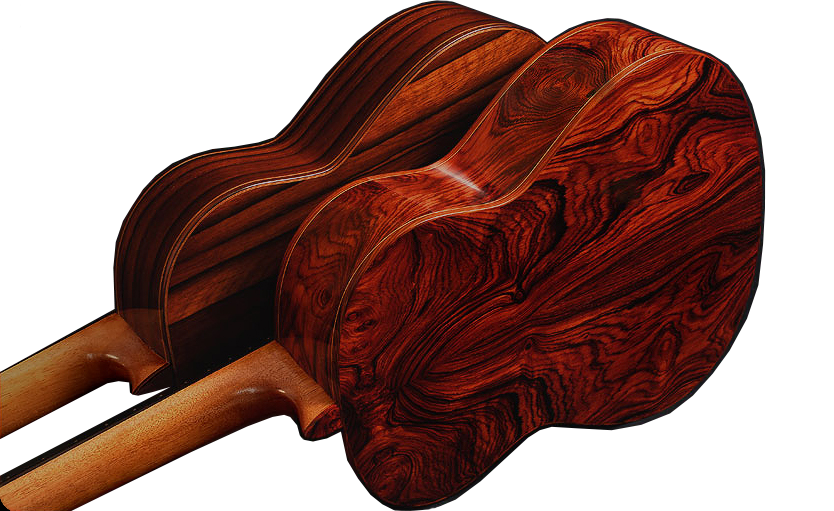 ... with Spanish Guitar Radio, an eclectic stream of background tracks featuring cosummate performances by seven of the world's most accomplished guitarists — including Baden Powell, Tomatito, Carlos Barbosa-Lima, Vicente Amigo, Bola Sete, David Russell and Carlinhos Antunes.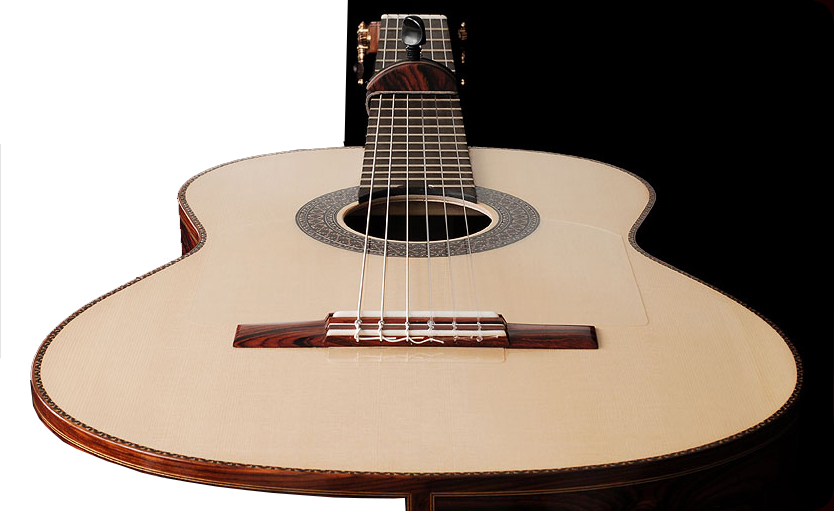 Interested in the exotic woods that are used to create these custom-made jazz guitars? See samples of the back and side sets that are currently in the workshop. Sets are available in Brazilian, Cocobolo, Siam, and Madagascar rosewood, black acacia, flaming koa, bubinga, quilted sepele, Tasmanian tigerwood, zebrawood, snakewood, and ziricote.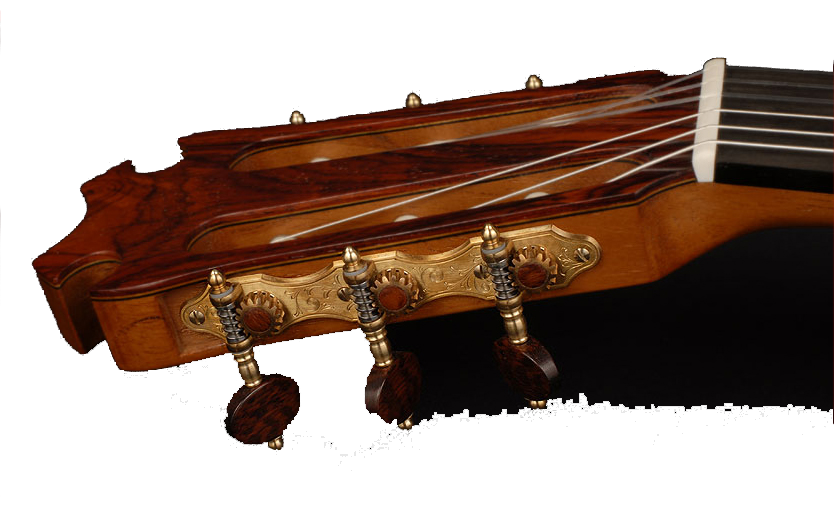 Have you ever thought of having a custom-made Spanish-style jazz guitar built to your own very unique specifications? Design your instrument by selecting options in more than 20 different categories (e.g. Cocobolo, Brazilian, Madagascar, or Siam rosewood for the back and sides, ... spruce, redwood, or cedar for the soundboard, ... Rodgers, Alessis, or Fusteros for the tuning machines) and then have it personally custom-built and French-polished by an accomplished guitarmaker.

Once you have defined the specifications of your instrument you can obtain the exact price and, if you wish, request further details about ordering a custom-made guitar based on your own unique requirements ...